Process of applying for an embassy visa
1) First, ensure that you have a valid passport; your passport is valid if it holds well for at least 6 months from your visa expiration date and has at least 1 blank page for visa stamping.
2) Then fill up the visa application form that has been provided at the embassy office and on the official website. The application can be made by you in person or you may also approach a third party agency that takes care of this application being made to the embassy.
3) The form needs to be supported by the latest colored passport size photograph and a photocopy of the passport. In addition, the original passport also needs to be submitted to the embassy for stamping of the visa.
4) This application may be taken to the embassy by you personally; via the third party or you may also post it if you stay far from the embassy. Get in touch with the embassy for the exact process.
5) The visa application will also require a processing fee that depends upon the type of visa you applying for and the duration of your stay. The fee needs to be paid in cash in Thai currency i.e. Thai Baht to the embassy. The diplomatic passport holders, who are on an official trip to Vietnam, are exempted from this fee.
6) The application on acceptance will help you get your visa in 1 to 4 working days. This visa holds good for travel to Vietnam via any route.
People taking road and water routes for travel to Vietnam have to obtain an embassy visa but for air travelers, another option is available i.e. a Visa on Arrival. We can help you in getting your VOAs that are quicker, easier, and more economical as compared to the embassy visa. With next to no documentation involved, VOAs are the best ways to make a trip to Vietnam.

How to download the Vietnam Visa Application Form?
To download the Vietnam Visa Application Form, you should know which one you need. There are to kinds:
Download Vietnam Visa Application Form for entry and exit at the airport
Download Vietnam Visa Application Form for the group from 15 applicants.
Download Vietnam Visa Application Form for entry and exit at the airport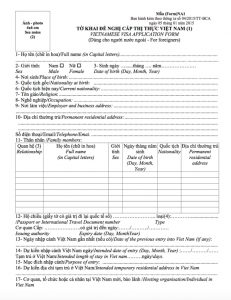 – Filling the form and sign.
Attachments:
– Glue your photo sized 4x6cm at right top corner as the form request + 1 additional photo same size.
– Prepare fee in cash
– Please remember that the fee for 1-3 months single entry, less than 1 months multiple entries, 3 months multiple entries and 6 months multiple entries are different, so you should bring extra money in case of the high fee.

Download Vietnam Visa Application Form for the group from 15 applicants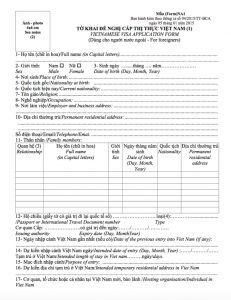 If you don't want to apply online, you can provide us your passport details as the form below to sales@visaonlinevietnam.com with you information about Full name, Date of birth, Nationality, Passport number, Date of arrival and date of exit. We will contact you immediately to handle the visa application for you.
Please note that your passport expiration date must be 6 months or more than, if not, you can not boarding the airplane.

Address of Vietnam Embassy and Consulate in Thailand
Are you looking for the location of the Vietnam embassy in Thailand?
There are Vietnam embassy and consulate in Thailand as below:
Embassy of Vietnam in Thailand
Address: Chancery: 83/1 Wireless Road, Lumpini, Pathumwan, Bangkok 10330, Thailand
Telephone: 0-2251-5836-8/ 0-2251-7202/ 0-2251-3552
Fax: 0-2251-7201
Email: vnemb.th@mofa.gov.vn
Website: www.vietnamembassy-thailand.org
Consulate General of Vietnam in Thailand
Address: 65/6 Chatapadung, Khonkaen 40000, Thailand
Phone: 242 190
Fax: 241 154
Code : 00-66-043
Email: konkaen.th@mofa.gov.vn
Website: www.vietnamconsulate-khonkaen.org
THAILAND
Complete Name: Kingdom of Thailand
Native Name: Prathet Thai
ISO-Code: THA
Capital: Krung Thep [Bangkok]
Regions: Bangkok [and Vicinities], Eastern, Northeastern, Northern, Southern, Sub-central, Western
Principal Cities: Krung Thep, Samut Prakan, Nonthaburi, Udon Thani, Nakhon Ratchasima, Hat Yai, Chon Buri, Chiang Mai, Phra Pradaeng.

More info: Is Vietnam visa on arrival legitimate