Foreigners in general and Thailand citizens in particular are sometime required to be present at Vietnam Immigration office for their visa process or some special case. So what is Vietnam Immigration Department? What is its function and what is the address?
Vietnam Immigration Department is a functioning bureau belonging to Vietnamese Ministry of Public Security. Its powers and functions focus on approving, supervising or disciplining Vietnamese citizens and foreigners' immigration, migration to and from Vietnam.
Vietnam Immigration Department is also the official organization that can issues Vietnam visa for you. When granting Vietnam visa, all Embassies and Consulates abroad are to co-operate with Vietnam Immigration Department before approving or issuing any Vietnam visa or other Vietnam Immigration related documents.
In summary, Vietnam Immigration Department is the official unit that issuing the following documents:
1. For Domestic Vietnamese
–        Ordinary passport
–        Confirmation of Identity card
–        Permanent or temporary reside in other countries
2.  For Vietnamese Overseas and Foreigners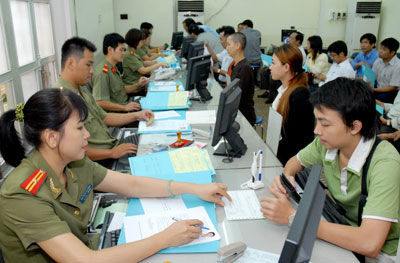 –        Vietnam Visa, Vietnam Visa extension, Vietnam Visa renewal
–        Vietnam Visa approval letter, Vietnam Visa approval code
–        Vietnam temporary or permanent residence card
–        Guarantee to migrate in Vietnam
In every province of Vietnam, there is an immigration office. However, for the visa related granted, Thailand passport holders are suggest to contact the three offices of Vietnam Immigration in three main regions of the country: The North, The Central, and the South. Where to find them? Below are detailed address with contact of these offices:
VIETNAM IMMIGRATION OFFICE (A18) IN HANOI
Address: 44- 46 Tran Phu Street, Ba Dinh District, Ha Noi, Vietnam.
Working hours:
Morning: 8 am – 11 am
Afternoon: 1:30 pm – 4 pm
From Monday to Friday and Saturday morning
Phone numbers for querying:
+ (04).8264026: about entry and exit Vietnam, residing of foreigners in Vietnam, repatriating of Vietnam citizens living abroad.
+ (04).8260922: about entry and exit of Vietnam citizens
+ (04).9345609: administration procedures
+ (04).8257941: about entry and exit at Vietnam borders and other related issues.
VIETNAM IMMIGRATION OFFICE IN DANANG CITY
Address: No 7 Tran Quy Cap, Da Nang city, Vietnam
Phone No: (+84-7511) 3 823 383
VIETNAM IMMIGRATION OFFICE IN HO CHI MINH CITY
Address: No 161 Nguyen Du, Ben Thanh Ward, District 1, Ho Chi Minh City
Phone No: (+84-8) .38.299.398
Fax: (+84-8).8.244.075
Email: phongqlxnc@vnn.vn
***
Is this article useful? Please leave a comment to let us know your anxiousness! We promise to help you with our best. For further information, you can read in our website Vietnam Embassy in Thailand, this is information of The Vietnam Embassy in Thailand and is provided for information and service purpose.